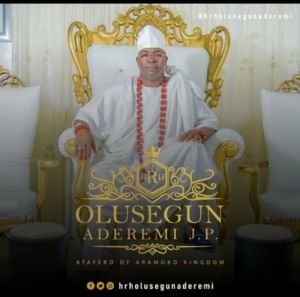 PROFILE
OF
HRH M'OBA(DR)OLUSEGUN ADEREMI JP. FIMC,CMC, MCArb, FIMS, FOSHA (UK), FSFS.
A great achiever, philanthropist, caring father, loving and doting husband, an astute builder and motivator, an employer of labor, a devout Christian and church elder. The man M'ObaOlusegun Idowu Aderemi JP.
M'Oba Aderemi was born in Aramoko –Ekiti, Ekiti West Local Government Area of Ekiti State. His father Oba OkunolaOsefaja Ajibike Atayero and his mother Olori Felicia Atayero were successful traders.
In 1996, he started his journey into the world of business with the establishment of SEGMAT SPRINGS LTD(SEGMAT SYSTEMS AND SECRETARIAL INSTITUTE). This business was borne out of his love for solving challenges and empowering people to succeed in life. In 2007, he established another business for which he is most popularly known, AUTOMATIC FIT AND ENERGY LTD, an auto care company that provides auto express services at very affordable price. Automatic Fit and Energy Ltd is in Partnership with Total Nigeria Plc to provide trainings and Lube Bay Services(Auto Express Service)nationwide, it franchises with Super Tracker -United Kingdom, Fasep-Italy and GUD Filters-South Africa. The company is also a major distributor for Michelin Tyres in Nigeria and into the Oil and Gas Sector. In 2014, he co-established RUFITEC GLOBAL RESOURCES LTD in Partnership with Osun State Government of Nigeria. The company produces roofing tiles, bond bricks and ceramics tiles. He also established O-SEMILORE INVETSMENT LTD and AUTOFIT SPARE PARTS LTD all in 2014. He is also a partner to Dunlop South Africa.
His zeal for hardwork did not end with the establishment of business enterprises but extended to academic prowess. He has the following degrees and certificates to demonstrate his quest and passion for continued education and learning;
▪ Prospective Chartered Administrator (ICSA)-2000
▪ Graduate of Entrepreneurial Management, CEM (Pan Atlantic University)-2006
▪ Graduate of Owner Management OMP (Lagos Business School)-2007
▪ Certificate in Executive Team Leadership (Lagos Business School)-2008
▪ Certificate in Business Management (National University of Singapore)
▪ Graduate of Advance Certificate in Oil &Gas (University of Lagos)-2014
▪ Graduate of International Business Management, IMP (LBS) 2016
▪ Alumna of Lagos Business School (Pan Atlantic University)
▪ Alumna, NANYANG Technological University Singapore (2015)
▪ Fellow of the Institute of Management Consultants, Nigeria (2016)
▪ Associate Member of Institute of Chartered Arbitrators Nigeria (ACArb), 2016
▪ Fellow, Institute of Management Specialist ,UK (2018)
M'Oba Olusegun Aderemi is a Member Society for Corporate Governance of Nigeria and a Member American Embassy Commercial Department. He is also a member of the Ekiti Elite Club E11.
In 2015 alone, he has received numerous awards. The Guardian Newspaper award of Distinguished Entrepreneur for his outstanding performance in the business world. Also, he was awarded in November 2015, with African Development Awards for Excellence by the African Development Magazine in Nairobi, Kenya.
Also in 2015, he was awarded with PSR National Award in Abuja, Federal Capital Territory. He was also awarded Sardauna Matasa Arewa by the Northern Youth Council of Nigeria (NYSCN).
He was also awarded the 2017 Kwame Nkrumah Leadership Award, as the Most Outstanding Person on Humanitarian Services Per-Excellence by the West African Students Union (WASU).
Recently he was appointed as Member, Board of Directors/Advisory Committee for the Security and Forensic Studies of Nigeria, College of Detectives Investigation and Legal Studies of Nigeria, Advance Peace and Reconciliation Center of Nigeria.
In 2019, he was awarded NANS Leadership Excellence Award as the Best Automobile Care Centre of the year by National Association of Nigerian Students.
As a sportsman Olusegun enjoys playing golf, travelling, watching movies and spending quality time with his family.
HRH (DR) Olusegun Aderemi JP. is a direct descendant of ODUDUWA and the ATAYERO of Aramoko- Ekiti Kingdom, taking after his father who was the ATAYERO I of Aramoko Kingdom.
He is happily married and blessed with beautiful Children.
``Find Out Where The People Are Going, And Buy The Land Before They Get There`` - William Penn Adair
Discover Our Best Deals And Featured Developments - We offer Simplified, Rewarding & Secure Investing
OUR BLOG UPDATES
Our main goal is to Deliver Incredible Value to our Esteemed Customers